Glass is a progressive rock trio from the Pacific Northwest who have blazed the path for alternative instrumental music in that area, since their inception in the late 60s. As one of the first progressive bands in the state, Glass made quite a name for themselves across college campuses and coffee houses, weaving their unique blend of English Progressive influences (i.e. Soft Machine, Yes, ELP ) and multi-media stage performances into impressive concert events .

In the mid 70s they made their way to England, the birthplace of their musical roots, in an attempt to establish themselves in the land of their musical heroes. And though they garnered considerable critical acclaim from the music press of the day, the deteriorating national economic climate in England forced them to leave before they could achieve their goal. In the late summer of 1975 the original lineup dissolved.
Fortunately for the music world, their permanent retirement was not to be. In early 1999, after a decade of watching the Internet - driven International Progressive Music Scene grow, the original members of Glass decided that perhaps the world had now caught up with them. Meetings ensued throughout that year, old master tapes resurfaced, archiving was done and the resulting triumph was the CD "No Stranger to The Skies" on their own independent label Relentless Pursuit Records. The album is a brilliant retrospective that includes material spanning the length of their early career. The CD set has done so well that in May of 2004, the French Progressive label Musea Records re-released it worldwide through retailers and major online music sources such as Amazon.com. In the time since their reformation, Glass has also been asked to play several of the world's major Progressive Festivals such as BajaProg in Mexicali, Mexico (where they performed in 2002 and 2004!) and the Progman Cometh Festivals in Seattle in 2002 and 2003 and they also performed at the inaugural ProgWest Festival in 2001.

Glass completed work on their first new studio album in 27 years. Entitled "Illuminations" it was released by Musea Records in September 2005 as one of their three Selections of The Month and is available the link above.

Glass returned from their first European Tour in November 2007 to support their Musea release "Glass Live at Progman Cometh". Pictures and an inside tour glimpse will be found here.

September 2008 found Glass back in the studio working on a brand new studio album for Musea. The album - "Spectrum Principle" - was finished in late 2009 and was released on October 15th, 2010. It is available for purchase at iTunes and Mindawn as well as on CD at the link above. It's also available at Museas website and wherever fine progressive music is sold. This album was produced by Glass drummer Jerry Cook and should prove to be a departure from the previous Glass studio album Illuminations.

Glass has come a long way in reaching their dream and a European Tour under their belts and a new studio album in the works, they seem poised at the brink of the larger success they have so long deserved. We invite you to come along on this part of their journey . . .


DISCOGRAPHY:
No Stranger To The Skies - Glass (RELENTLESS PURSUIT RECORDS RD4128)
No Stranger To The Skies Vol III Glass (RELENTLESS PURSUIT RECORDS RD 4128 III)
No Stranger To The Skies - Glass (MUSEA RECORDS FGBG 4516.AR)
Illuminations - Glass (MUSEA RECORDS FGBG 4594.AR)
Glass Live At Progman Cometh - Glass (MUSEA RECORDS FGBG 4736.AR)
Palindrome- Glass (MUSEA RECORDS FGBG 4935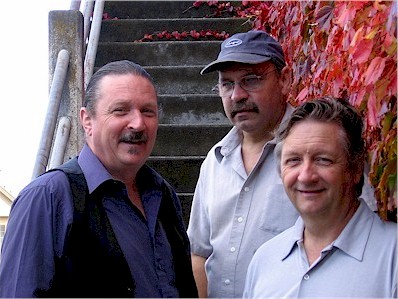 Glass - Photo by Erik Poulsen
Jeff Sherman Electric & Acoustic Guitars, Alembic Small Standard Series I & Thorn Custom Inlay Bass Guitars, Fender-Rhodes Piano, Korg O1W, StudioLogic Bass Pedal MIDI-Controller, Korg KAOS KP2 MIDI Controller Pad, Natural & Modified Sound Samples, Vocals

Jerry Cook Drums, Tunable Concert Timpani, Moog Drums, Mini-Moog synthesizer, Percussion, Gong, Electronic Drums, Roto-Toms, Drum Samples

Greg Sherman Acoustic & Electric Pianos, Hohner Clavinet, ARP, Nord and Oberheim Synthesizers, Mellotron, Hammond Organ & Custom Electronics, Roland A-90, Korg O1Ws



CURRENT RELEASE:

Spectrum Principle - Musea FGBG 4854





Glass Live At Progman Cometh - Musea FGBG 4736.AR





Illuminations - Musea FGBG 4594.AR




No Stranger To The Skies - Musea FGBG 4516.AR